Effortlessly differentiate teaching and learning
EP is a toolkit of learning, assessment and analytics features designed to help teachers engage students, track growth and differentiate their teaching.
How it works
EP's adaptive learning cycle
Search our library of thousands of curriculum-aligned resources and select skills and knowledge-based lessons. Assign personalised content for classwork, homework and revision.
Our lessons are interactive, expertly designed and oriented to specific learning outcomes.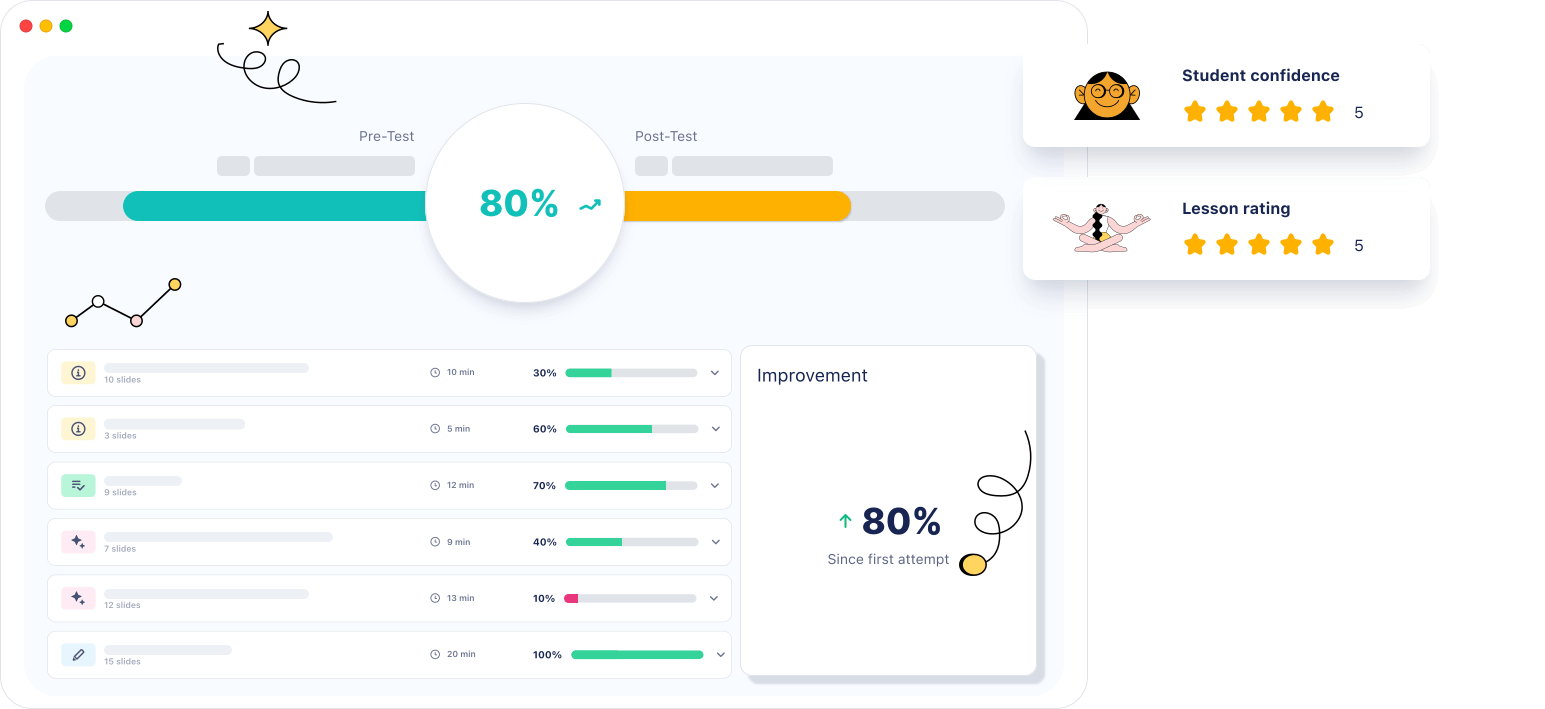 Utilise formative and summative assessments to monitor student progress and achievement in real-time.
Our reporting is intuitive, visual and offers rich insight into strength & growth areas for students.
Create individualised learning pathways for students based on their identified strengths and weaknesses.
We offer easy automation, adaptive lesson recommendations and advanced analytic options.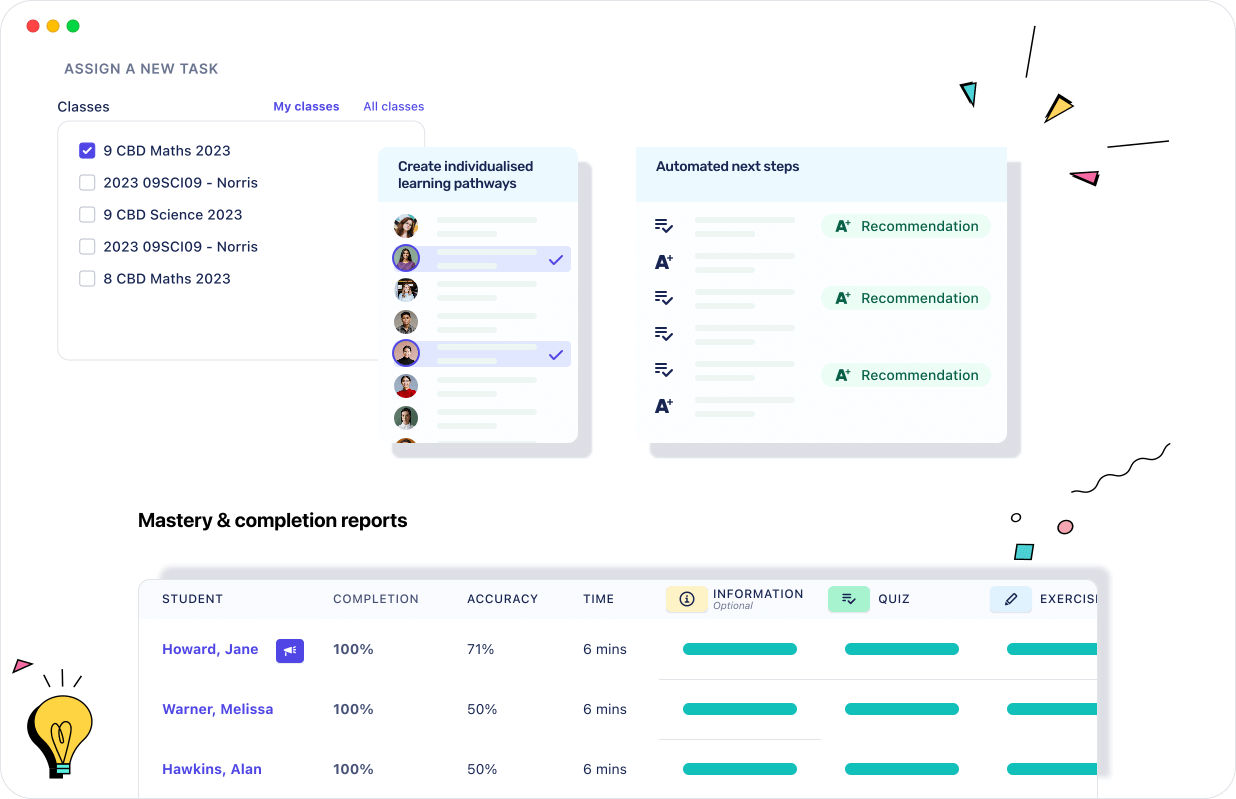 Make a difference
for teachers & students
Optimise teaching time
Maximise efficiency with automated revision, practice, marking, and concept reinforcement.
Easily assign tasks for teacher or student absences.
Teach your way with the ability to customise lessons and sequences.
Track data and progress visually, with user-friendly interfaces.
Feel supported with on demand support and access to the EP community.
Empower student learning
Engage students with blended lessons and interactive activities.
Foster independent learning and encourage student agency.
Provide access anywhere on any device.
Assign tailored content to meet individual needs.
Create transparency for students and parents with clearly mapped learning outcomes.
Accredited learning design.
Our learning design is drawn from extensive evidence based research and pedagogical principles. This means students find EP engaging and easy to understand, and has earned us a Digital Promise Product Certification.
Proven results.
EP's formative assessment cycle has had a proven impact on learning growth and student outcomes.
Comprehensive coverage.
Our resources cover over 8 key subjects across more than 20 curriculums making it easy for you to find the content you need, and consolidate your learning resources at a school level.
Trusted by teachers.
EP is built for teachers by teachers. We are proud to be partnered with over 50k teachers and 1.2mil students across 50+ countries.
By teachers, with teachers, for teachers
"I am finding the data available in EP is really supporting my pedagogy in class."
Science Teacher, Brisbane
"Education Perfect is a great tool for Languages. Students love it and I do too. The webinars are also great and provide opportunities to learn about new features, all of which allow for interactive and personalised learning."
Marian College, Sunshine West
❮
❯
"My students are so engaged with the EP content. It has good scope and ensures my students still get the information they need if I am not at school."
Kapiti College, Paraparaumu
"It really allows my students of all French backgrounds to challenge themselves and I love that students are reading, writing, hearing, and speaking the language."
La Glace School, Alberta
"This is great for assessments where students are with individual results & feedback are provided."
Queensbury Middle School, New York
❮
❯
"Those who were keen to control the pace of their learning were able to, and the system flags those who may need extra help but are hesitant to ask."
Western Academy, Beijing
"I really love EP in my Chinese and ESOL classes. In my third year of using it, it has definitely brought much convenience and effectiveness to my language classes."
Beijing International Bilingual Academy, Beijing
❮
❯
"I especially like how the assessment tool generates further personalised tasks for the students, based on their incorrect response."
Kellet School, Kowloon Bay
"EP works real wonders when it comes to distance & online learning."
Oberoi International School, Mumbai
"The remedial work on EP is a great way to fill the knowledge gaps that exist in the student community."
Aga Khan Academy, Hyderabad
"I am made more confident and comfortable to bring better practices into my classrooms."
Oakridge International School, Khajaguda
❮
❯
"Just started using assessment as review of content learned and love the way it randomly picks questions for students to attempt. Thanks EP!"
Westlake International School, Kampar
"The students are really loving EP. They find the modules interactive and fun and working at their own pace is an added bonus."
Hillel Academy, Kingston
"EP represents a great opportunity to offer our students something new."
Colegio del Valle de Culiacán
"EP proves to be a very popular tool."
European International School, Ho Chi Minh City
"An intuitive and engaging platform."
Rashid School for Boys, Dubai
"I have had a fantastic time discovering EP recently. It has really transformed my online lessons and I love its flexibility."
King Henry VIII School, Coventry
"I can personalise the resources and create others. I particularly love the direct link with google classroom which facilitates my daily life!"
Bedstone College, Shropshire
❮
❯
Foster a love of learning with over 35,000+ curriculum aligned lessons designed to provide the perfect balance between enjoyment, learning and engagement.
Aligned to your curriculum